Posted on October 15, 2015 by Jeffrey Feiler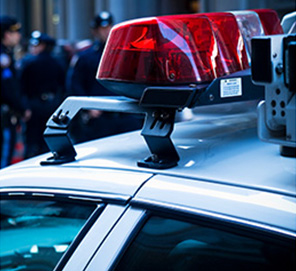 There is a forceful knock on your door. That's strange... you are not expecting friends, or a pizza. As you get closer to the door, you hear the person on the other side identify themselves as police officers, and demand that you open the door. While having law enforcement at your front door does not necessarily mean you did anything wrong, it is an uncomfortable situation nonetheless. What do they want? Did something happen to my loved ones? Did they mistake me for someone else? You open the door, the police officer asks to come in and "take a look around." Do you let them in? Do you tell them to leave? Regardless of whether or not you have something to hide, having your privacy violated by strangers is uncomfortable, inconvenient and humiliating. What should you do in this situation? If you don't have a
Miami criminal defense attorney
present to advise you - you should consider the situation carefully.
Thankfully, the smart guys in white wigs who long ago came up with the rules on how this country is run had similar problems: the British who were knocking down their doors and searching their homes without permission or cause. Our forefathers really didn't like that. The 4th Amendment of the U.S. Constitution ensured that "The right of the people to be secure in their persons, houses, papers, and effects, against unreasonable searches and seizures shall not be violated, and no Warrants shall issue, but upon probable cause, supported by Oath or affirmation, and particularly describing the place to be searched, and the persons or things." Identical language is found in Section 12 of the Florida State Constitution. In simpler and more relatable words, police can't come into your home unless they have a warrant that describes exactly where they can and cannot search.
Sounds simple enough: No warrant, no entry! Unfortunately, it is not quite that simple. Over the 300 years of the existence of the United States, certain loopholes were created to allow authorities to enter your house without a warrant. These loopholes, or exigent circumstances, are not necessarily a bad thing -- if you are in danger in your home -- for example, your house is on fire, or someone inside is causing you harm, you wouldn't want a police officer to wait for your consent or a warrant to come in and save you.
The easiest way for police to obtain legal permission to enter your home without a warrant is your consent. If you respond to their request to "take a look around" with "sure, come in," you gave them implied permission to search your home. Be careful consenting to a warrantless search! Prior to consenting, ask the police officer what they are searching for, and see if you can get it in writing. For example, if they are searching for a stolen bike, or a giant ATM machine, they probably shouldn't be searching in your medicine cabinet or underwear drawers. In case of a guest or renter, the officer is only allowed to search in the areas inhabited by that person, and should not search in the rest of your house.
If there are no exigent circumstances, and you do not give consent, police can only enter your home with a warrant. Even without a warrant, police can claim to have heard a toilet flush repeatedly to get rid of drugs. If you are positive there is nothing illegal in your home, let them walk through your home, and be cooperative. It will most likely be a quick search.
If all else fails, and police force their way into your home without a warrant, without probable cause and without consent, you have a defense -- the Exclusionary Rule. Anything police finds during an illegal search can be suppressed in court and be prohibited from being used as evidence against you.
Remember -- at the end of the day, police authority is authority. Being uncooperative with police is always a risk, so do your best to be courteous, helpful and polite even if you feel like they are not giving you the same treatment. Do not argue, insult or attempt to physically keep police from entering your home.
If you find yourself in trouble after the police have conducted a warrantless search of your home, any evidence that they find can potentially be dismissed. Call The Jeffrey Feiler Law Firm to have your case evaluated today!
---