Posted on January 16, 2012 by Jeffrey Feiler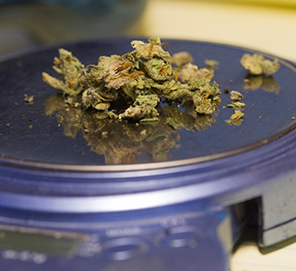 Cannabis, also known as marijuana, is defined in chapter 893 of Florida Statues concerning Drug Abuse Prevention And Control §893.02, as: "all parts of any plant of the genus Cannabis, whether growing or not; the seeds thereof; the resin extracted from any part of the plant; and every compound, manufacture, salt, derivative, mixture, or preparation of the plant or its seeds or resin".
Regarding this issue, the Florida Courts recently determined that when weighing marijuana the entire plant is to be counted. As we know, tetrahydrocannabinol (THC) is the main psychoactive substance of the Cannabis sativa plant, and is contained in the buds, which are usually consumed and weigh just a fraction of the whole plant. However, when presented at court, the weight would include the stem, leaves and other parts of the plant which are not used. Even the water weight of the plant will be counted. For example: if months later, perhaps at a trial, the plant has dried out and weighs much less, it is the weight when the plant was alive that governs and will be taken into consideration for "Trafficking in Cannabis" charges and sentencing, not the weight after the plant has dehydrated.
As described in Florida Criminal Laws (§893.135, Fla. Statute), "Trafficking in Cannabis" constitutes a first (1st) degree felony and carries serious punishment. The mandatory sentences for this type of crime depend on the quantity of Cannabis found in possession of, which could be:
- For 25 to 2,000 pounds or 300 to 2,000 Cannabis plants = 3 years imprisonment + $25,000 fine.
- For 2,000 to 10,000 pounds or 2,000 to 10,000 Cannabis plants= 7 years imprisonment + $50,000 fine.
- For 10,000 pounds or more or 10,000 Cannabis plants or more = 15 years imprisonment + $200,000 fine.
This is particularly important to anyone who is growing marijuana because, as stated above, 25 pounds of marijuana or more constitutes Trafficking and requires a 3 year minimum mandatory prison sentence. It only takes several mature plants to reach that amount even though the usable marijuana would be a fraction of the total weight.
Drug Trafficking charges in the State of Florida are serious accusations and can be a life changing experience, so if you or someone you know are facing this kind of situation, it is imperative to seek expert legal advice and representation from a knowledgeable criminal attorney to achieve the best results possible.
---
I'm Jeffrey Feiler, a well-known
Miami criminal defense lawyer
and
Miami DUI Lawyer
who has been successfully defending the rights of clients for over 20 years. My Law Firm and I are compassionate to individual's needs, while simultaneously obtaining desired resolutions and judgements.
---