Posted on August 27, 2011 by Jeffrey Feiler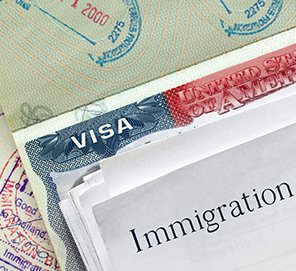 Understanding Visas
Immigration law can be difficult to understand (not to mention difficult to keep track of) especially considering that each specific law has numerous clauses, situations, exceptions, and exemptions to worry about when coming into the United States. Hundreds, if not thousands, of foreign citizens are in the United States illegally, and some do not even know it, simply because they have an expired Visa.
Temporary Visas
When a foreign person wants to come to the United States to visit, he or she must obtain a visa that allows him or her to be here for that visit, with some exceptions. If the foreign person is a citizen of one of the 36 Visa exempt countries, which are known as the Waiver Program Countries, then they are the exception and do not need a visa.
Temporary Visa Requirements
In addition to the specific rules for each visa class, foreign citizens must also be able to pass other requirements to be able to obtain a tourist or non-immigrant temporary visa. These requirements include:
The foreign citizen must prove that he or she has a home, an employer, or other ties to another country on a permanent basis.
The foreign citizen must be able to prove that he or she will be in the UnitedStates on a limited basis and that he or she intends to go back to his or her country at some point.
The foreign citizen must also prove the reason for his or her trip. For example, if on vacation, he or she must prove a hotel reservation, etc.; if for business, or medical treatment, the foreign person must prove the destination.
If the visa applicant cannot meet these requirements, the visa could be denied or revoked if already issued. Because different situations require different forms of proof and other evidence, it is wise to seek the advice of a lawyer when wanting to visit the UnitedStates, as even the slightest error can hold up a visa application indefinitely, ruining your business trip or vacation.
The Most Common Types of Tourist or Temporary Visas Include:
B1, B2, and BCC Visas: The "B" class visas are by far the most common visa granted to any foreign person coming to the United States, at any given time. The "B" visas cover everything from domestic employees (contracted through their employers) to entertainers, athletes, and performers. Essentially, anyone who comes to the UnitedStates of America and receives a paycheck or money of any kind - must apply for and receive a "B" visa of some kind. However, the B2 is different, as it covers those seeking medical treatment in the UnitedStates. The BCC visa is also a "B" class visa, but it is different as it is a Border Crossing Card, or a special type of Visa issued to Mexican Citizens that allows them to cross the border at anytime.
H1-B, H2-B Visas:
These visas cover people with "extraordinary abilities," - such as scientists and people with special skills, or special technical knowledge, that requires that the foreign person had previously attended college and had obtained a bachelor's degree. It also requires the foreign person to fill a professional employment vacancy, which requires at least a bachelor's degree. A teacher may not receive an
H1-B visa
, but a Quantum Metaphysicist may. This position requires at least a bachelor's degree in science, while a teacher's position does not.
The H2-B visa
covers seasonal workers, such as migrant farmers and other agricultural employees.
J Visas: This type of visa covers most types of student exchange programs including exchange- teaching personnel; in addition to Au Pair exchange programs.
K1 – K4 Visas:
The K-group visas are technically non-immigrant or temporary visas, where the foreign applicants typically intend to apply to stay in the UnitedStates permanently. An UnitedStates citizen or permanent resident alien petitions the government for their foreign fiancée, spouse, or children to enter the country with the intention of staying. If petitioning for a fiancée, the couple must marry within 90 days of him or her entering the country or the visa will expire and the fiancée must leave. Before the 90 days are up, the fiancée must apply to become a permanent resident legally, also called an adjustment, under the International Marriage Broker Regulation Act (IMBRA) rules.
Separate regulations apply to children of fiancées, so be sure to ask an experienced immigration attorney for advice. Anyone who is issued a K3 visa can continue renewing it indefinitely, and anyone with a K3 or K4 visa is also allowed to work, and can come and go from the UnitedStates to their home country until their visa expires.
Trouble with Visas
For most visa applicants, the requirements for obtaining the visa sometimes also include a judgment of moral or ethical character. What this means is that a person applying for a Visa must not be "undesirable" or have any affiliation with anyone or any organization that is unsuitable.
Undesirable and unsuitable can mean a few different things including:
If a foreign person has ties to or is a former member of any political group that is not suitable, such as a communist group, or a militia group of any kind, or other political entity that could/wants to harm the UnitedStates.
If the foreigner is not healthy, or has a health problem that is debilitating
If the foreign person has a criminal record or an otherwise poor showing of character
Foreign citizens who get into trouble before applying for a visa most likely will not be able to obtain a visa at all, with some exceptions, of course. Overall, a foreign citizen wishing to enter the UnitedStates must show that he or she is of good moral and ethical character and will not cause any trouble while in the United States. Even after a foreign person has obtained a visa and is already in the United States, if that person proves not to be of good character, while they are here, then that visa can be revoked and he or she can be deported.
The most common reasons for visa revocation and deportation include: being convicted of a crime, drinking and driving, buying and/or selling drugs, being stopped by police for speeding or running red lights, as well as being arrested for more serious crimes such as robbery, grand theft, or murder. Mistakenly, some believe that simply being arrested can call for deportation , but this is not true unless he or she had already been convicted of a crime, had an active warrant, or was in the country illegally. Deportation includes those who are caught in the United States. - without a visa, after a visa has been revoked or has expired, and re-entering after deportation.
The Consequences of Foreign Citizens in Trouble
Any foreign citizen, who is convicted of a crime, while in the UnitedStates, faces the same punishments and consequences that citizens of the United States do. However, they also face extra consequences because they are here as visitors. The consequences for committing a crime in the UnitedStates, while on a visa can include: serving regular prison time, federal prison time, paying fines and restitution, and ultimately, deportation proceedings, as determined by the judge.
Deportation Hearing:
If deportation proceedings are included, then the person awaiting the hearing will spend that time waiting inside a federal detention center for immigrants, in addition to serving the original prison time ordered by the judge for the crime. The length of time that the foreign person is detained in the detention center depends on when the deportation hearing date is scheduled, and this can last from 1 to 12 months or longer. Ultimately, about 80 percent of foreign citizens who commit a crime in the UnitedStates are deported, with only a few exceptions.
Barred from Re-entry:
The other consequences faced by foreign citizens if they get into trouble in the United States holding a visa is that he or she will also be barred from returning. Immigrants /visitors already cannot receive a visa if they have a criminal record, so being convicted of a serious crime in the UnitedStates permanently bars them from ever coming back.. However, foreign citizens convicted of lesser crimes, such as non-violent misdemeanors, including possession of marijuana, or public drunkenness, may be allowed to obtain a visa after 10 years or earlier, depending on the infraction and the judge's decision.
Once a Foreign person is deported, if they are caught trying to return without a visa, or caught anywhere within the United States without a visa, then he or she could spend much time in a federal detention center, depending on the determination of an immigration and deportation judge.
The United States government does not want to issue a visa to potential troublemakers, therefore the requirements for visas and the laws are strict, as they protect not only the citizens of the United States, but they also protect the foreign citizens as well. This is why the laws are so intricate, and why each one has its own specific set of clauses, exemptions, and exceptions. It is always a wise idea to contact an attorney who can direct you in the right direction in applying for and obtaining your visa. If you already have a visa and are in trouble, an experienced immigration lawyer is exactly what you need to explain the law and to give you instructions on what you need to do to stay in the country.
---
Jeffrey Feiler is a well-known
Miami criminal defense lawyer
and
Miami DUI Lawyer
who has been successfully defending the rights of clients for over 20 years. Mr. Feiler and the Feiler Law Firm are compassionate to individual's needs, while simultaneously obtaining desired resolutions and judgements.
---