Posted on August 10, 2016 by Jeffrey Feiler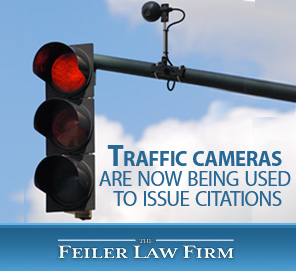 Red Light Camera Tickets are being issued each day in the many incorporated cities and municipalities located in Miami-Dade County. Many of us are familiar with this phenomenon. We receive a notice in the mail with a photo of a car we were allegedly driving, seemingly crossing over the white stop line after the light had already turned red. We are then given an opportunity to pay a fee to the tune of $153.00. It may not seem as grave as a ticket that adds points to your license, like
reckless driving
, but what does it mean for Florida residents?
On July 1, 2010, the Legislature enacted the Mark Wandall Traffic Safety Act, which authorized local governments to use cameras to enforce traffic lights. Ch. 2010-80, Laws of Fla., partially codified at § 316.0083, Fla. Stat. (2010). The Wandall Act was named in honor of Mark Wandall, whose wife was nine months pregnant when he was killed by a driver who ran a red light. City of Orlando v. Udowychenko, 98 So. 3d 589, 596 n.10 (Fla. 5th DCA. 2012). According to the accompanying committee report, seventy-six people were killed in 2008 in Florida by drivers running red lights. See House of Representatives Staff Analysis, at p. 2, CS/CS/HB 325 (Mar. 9, 2010).
Citizens do not like the "Big Brother" technology watching their driving and issuing citations to them. In Broward, the whole process was determined to be unlawful, and all red light tickets in the City of Hollywood were dismissed. The case, City of Hollywood v. Arem, 154 So.3d 359 (Fla. 4thDCA 2014) was affirmed on appeal, and thereby, the Court decision to dismiss the citations was upheld.
In Miami-Dade a parallel case is being fought through the Judicial ranks. Luis Torres Jimenez challenged the City of Aventura and won the case initially. Miami-Dade County Court Judge Steven Liefman presided over the case. Unfortunately, this past week, the Third District Court of Appeals disagreed and reversed the decision in an opinion issued on July 27, 2017. The Court said;
We hold that the review of red light camera images authorized by section 316.0083(1)(a) allows a municipality's vendor, as its agent, to review and sort images to forward to a police officer where, as here, (1) the vendor's decisions in this regard are strictly circumscribed by contract language, guidelines promulgated by the municipality, and actual practices, such that the vendor's decisions are essentially ministerial and non-discretionary; (2) these ministerial decisions are further limited by an overarching policy of automatically passing all close calls to the police for their review; (3) it is the police officer that makes the actual decision whether probable cause exists and whether a notice and citation should issue; and (4) the officer's decision that probable cause exists and a citation issues consists of a full, professional review by an identified officer who is responsible for that decision and does not merely acquiesce in any determination made by the vendor."
Because there is a disagreement between two District Courts of Appeals in Florida, the Florida Supreme Court has been called upon to address the matter as a case of "great public importance". Assuming the Supreme Court accepts Jurisdiction, theirs will be the final word on the subject.
For more information about red light camera tickets, DUI cases, Reckless Driving cases, leaving the Scene of an Accident or other traffic matters including DUI Manslaughter or Vehicular Homicides, contact the Jeffrey Feiler law firm.
---